WISMEC Reuleaux RX300 Mod Clearance Sale
WISMEC Reuleaux RX300 Mod is the modular evolution of the RX200 and RX200S. Heralding in the new generation of RX devices, it is the first Wismec platform to utilize a four high amperage 18650 battery configuration, providing unprecedented battery life and a whopping 300W of true maximum power. With an atomizer resistance range of 0.1 to 3.5 ohms and a 50A maximum output current rating, the RX300 is capable of easily handling practically any atomizer requirement needed. Full temperature control capability is also on board, with Ni200 Nickel, Titanium, Stainless Steel and TCR modes available with a range of 200 to 600℉. In temperature control mode, it features an adjustable TCR mode that allows for expanded compatibility and output tuning. At last, the 0.96″ intuitive OLED screen displays a classic and effective organization, with essential information neatly shown along with separate battery bars evaluation. 2 colors to choose from.
Remember to use the coupon code 70TH for 12% off to achieve this price.
Parameters
Size: 42mm*58mm*81.7mm
Thread Type: 510 spring loaded thread
Cell type: High-rate 18650 cell
Cell type: (discharge current should be above 25A)
Output Mode: VW/TC-Ni/TC-Ti/TC-SS/TCR Mode
Output Wattage: 1-300W
Resistance Range: 0.05-1.5ohm for TC modes
Resistance Range: 0.1-3.5ohm for VW mode
Temperature Range: 100-315°C/200-600°F (TC modes)
Maximum Charging Current: 1.5A
Maximum Output Current: 50A
Reuleaux RX300-Carbon Fiber comes with
1pc Reuleaux RX300-Carbon Fiber(no cells)
2pcs Sticker
1pc QC USB Cable
1pc Warning Card
1pc User Manual
Features
1. 300W Maximum Output with Four 18650 Cells: Powered by four replaceable 18650 cells, the maximum output can reach 300W, providing you with a huge amount of vapor.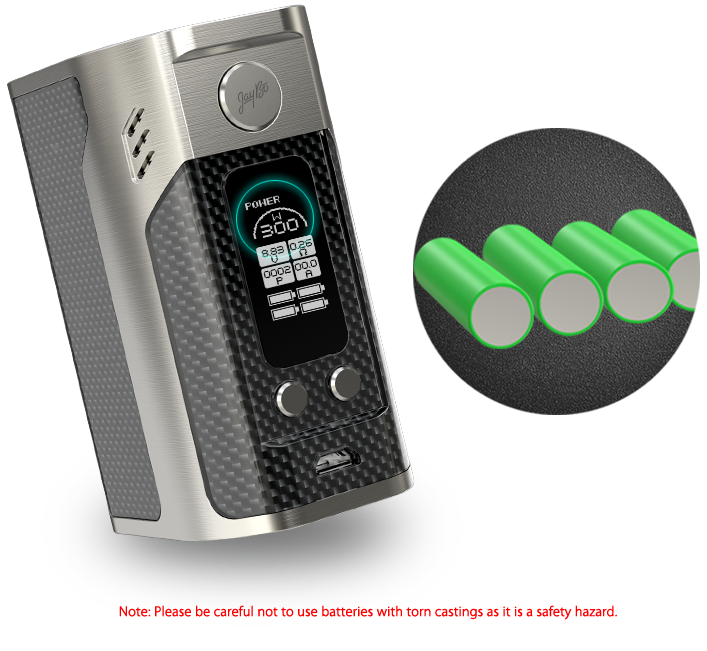 2. Brand-new Interface with Separate Battery Bars: The user-friendly interface with 0.96inch OLED screen presents all parameters clearly. And the battery status can be vividly displayed through the four separate bars.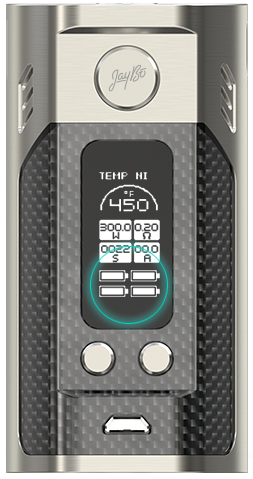 3. Flip-open Battery Cover for Easy Exchange: The unique design of battery cover enables you to replace the cells with great ease.

4. Dual Circuit Protection & Reverse Polarity Protection: Reverse polarity protection is effectively achieved by the application of special battery anti reverse circuit in the circuit board. And the equipped dual circuit protection systems make the RX300 much safe and reliable.

5. Changeable Stickers for Decoration: Two editions are available, you can change the colorful sticker and decorate the device to your preference.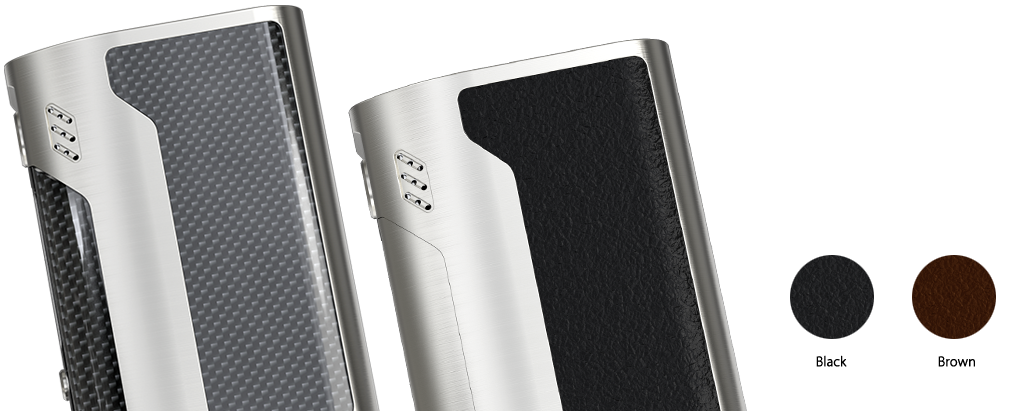 6. Upgradeable Firmware with Preheat Function: With an upgradeable firmware, custom logo and preheat function are available.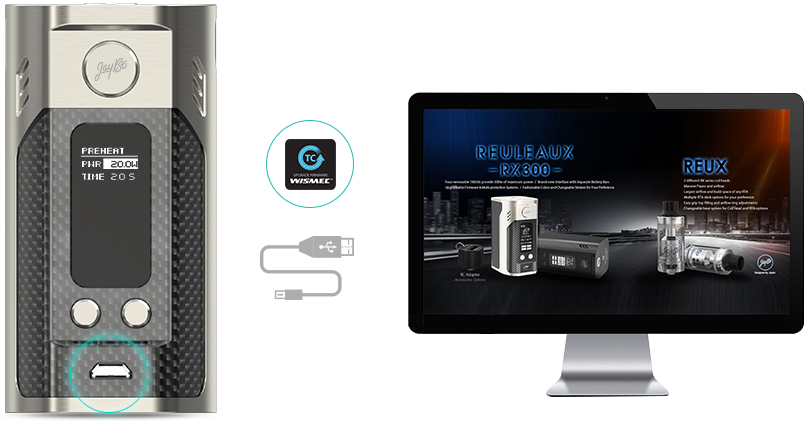 7. Innovative RC Adapter: The newly introduced reverse charging adapter serves as a power bank, providing power to electronic equipment when necessary.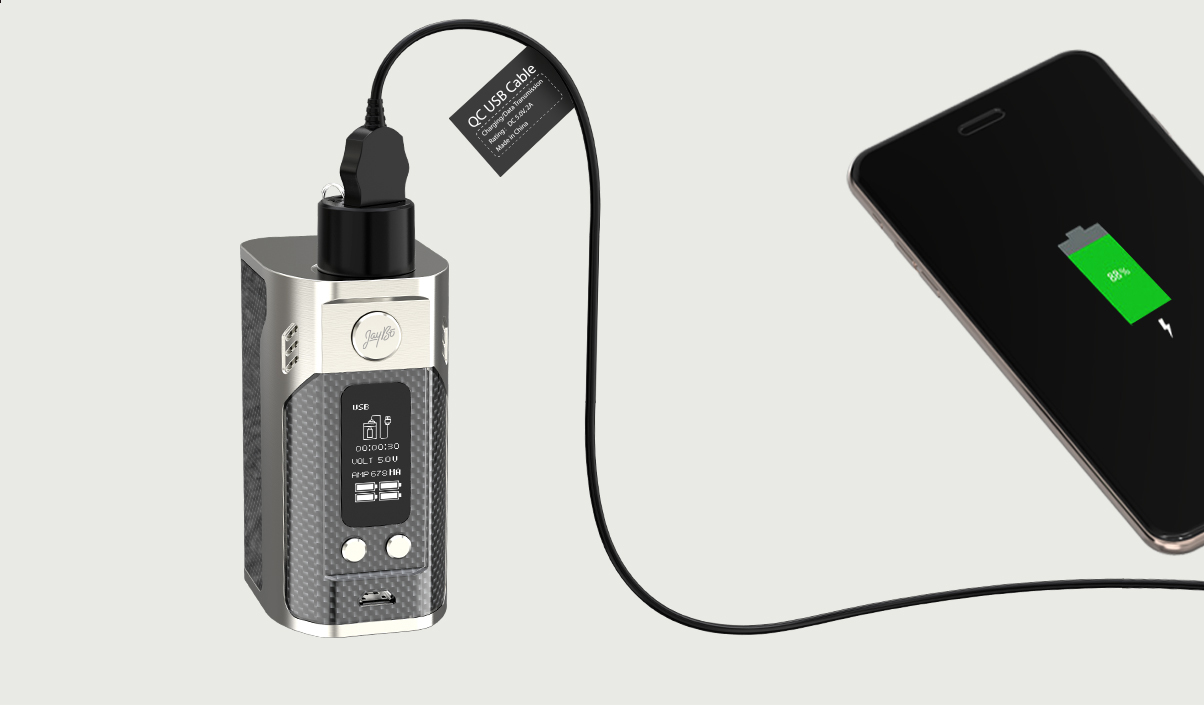 OPERATION:
The Setting of TCR Mode: In the powered-off state, keep pressing the fire button and right regulatory button simultaneously, then you enter into the TCR set menu:
(1). Press the left or right regulatory button to choose among TCR M1, M2 AND M3;
(2). Press the fire button to confirm the mode you choose;
(3). Press the left or right regulatory button to increase or decrease the parameter according to the TCR of the coil;
(4). Keep pressing the fire button or leave the interface for about 10 seconds to confirm.